The Bible says
"A Friend Loveth At All Times..." Proverbs 17:17
That is the verse I thought of when I saw this card our lovely DT member Kenzie created.
The best friend is the one who loves you no matter what, is there beside you to hold you up when you cant stand, to pray for you, to support you and guide and just love you with their whole heart. I know that God places people like this in our lives. We have special friends and family who we just know are Gods way of smiling down on us. It is his way of letting us know just a TAD of how much love he has for us. I think that if we could FEEL ALL of the love he has for us we would be like love sick puppies all walking around with our heads in the clouds smiling and loving everyone. Now, that would not be so bad, would it. Can you imagine that? What a world that would be! Well .. think about it... that is what we are promised when we get to heaven right? What a glorious day that will be.
I am off to spend some time with my best friend, my mom. The kids are on spring break and they are usually so busy during the week they do not get much time at her house.. so they are super excited!!! :) and I am going to paint! woo hoo!!! I love to paint, did you know that?!?!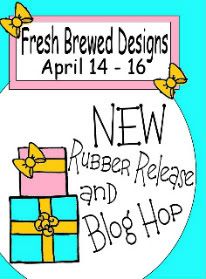 Please stop in tomorrow for our RUBBER RELEASE AND BLOG HOP!
It is going to be FUN FILLED with lots of deals, packages and surprises!